Annotated Checklist of the Birds of Kentucky
Third Edition
Brainard Palmer-Ball, Jr./Ky. Ornithological Society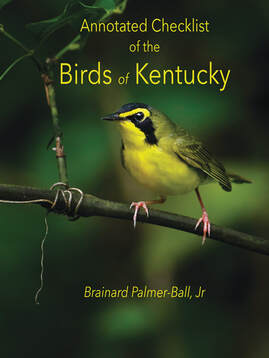 The Annotated Checklist of the Birds of Kentucky, a KOS-sponsored project, was first published in 1988. It was the first summary of the state's avifauna since Robert Mengel's Birds of Kentucky (1965), and was authored by Dr. Burt L. Monroe, Jr., Anne L. Stamm, and Brainard Palmer-Ball, Jr. The first edition was 84 pages and summarized the status of 340 species of birds reported in the state.
The second edition was published in 2003 utilizing a grant from the U.S. Fish and Wildlife Service. It was authored by Brainard Palmer-Ball, Jr., as the other two authors had passed away in the 1990s. This edition was 189 pages with 363 birds reported. A section of color documentary photos was also included.
The Society published the third edition in 2019, is authored by Brainard Palmer-Ball, Jr., and is 260 pages with 390 species. The third edition has been expanded to include more detailed lists of county distribution of many less common species. Included in species descriptions are brief summaries of status, distribution, seasonal occurrence, and abundance.
How to Purchase
This important reference is available at meetings of the society, through the online bookseller Bookshop.org, and wherever books are sold.